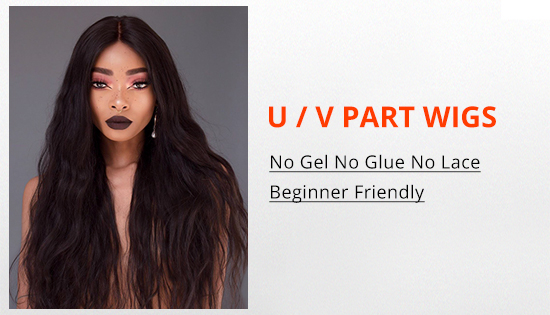 Filter
Lace Size:

Hair Color:

Hair Wavy:
Write Down Your Answer +100 Points
X
Q: Which of the following looks do you prefer?

U/V Part Wigs
A U Part Wig Is A Modified Half Wig That Is In The Shape Of A "u" At The Top Part Of The Wig, WIGGINS HAIR U Part Wigs Are 100% Made Of Human Hair, And Blend Naturally With The Wearer's Own Real Hair. New V Part Wigs, No Glue, No Crochet, No Leave Out, Thin V Part Wigs, 12-26 Inch For Sale, Quick Install, 0 Skills Need, Beginner Friendly, 1B/99J, Natural Black & 2"x4" U Part Wigs, No Lace No Shedding No Tangle, Easy Wear & Care.