The final goal that women wear wigs is to no matter conceal their own hair flaw, protect their natural hair or just follow hair fashion trend to try different hair styles but in a natural way that others won't recognize that they are wearing a wig. Otherwise, things come out counterproductive.
In the way to achieve a realistic finished look when girls apply wigs, they think out all kinds of ways, like choosing the suitable lace color to match their skin tone, pluck hairline to mimic the natural growth of hair, using foundation to make demarcation less obvious, and bleaching knots which is an important part as black grid on lace will make it look "wiggy". Yet it is also the most complicated part as the outcome is up to your skills, light or over bleaching will make things unimproved or even worse.
Therefore, it's our factory to turn to consider difficulty or inconvenience of customers and find out to way. How about making a type of wig without knots? In view of this question, finally silk base wig appear to the public.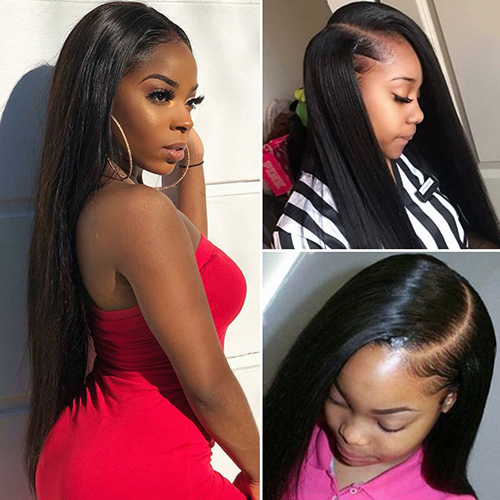 What's silk base wig?
Silk base wig is a new innovation of lace wig, which consists of three layers of lace tactfully hide the knots to make them invisible from the top. The strands of hair are injected between those laces and tied from bottom to top by reverse ventilation, so knots are veiled by lace on top, which offers a realistic human-like scalp look directly.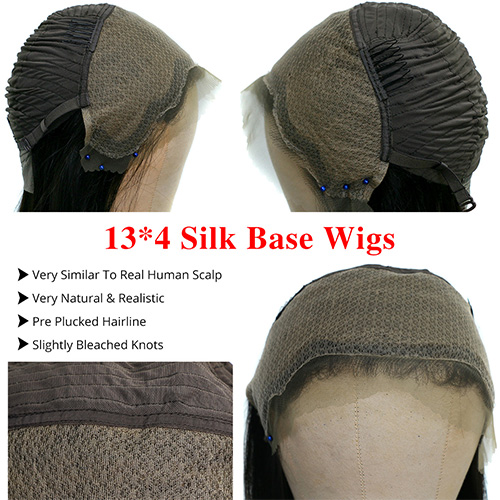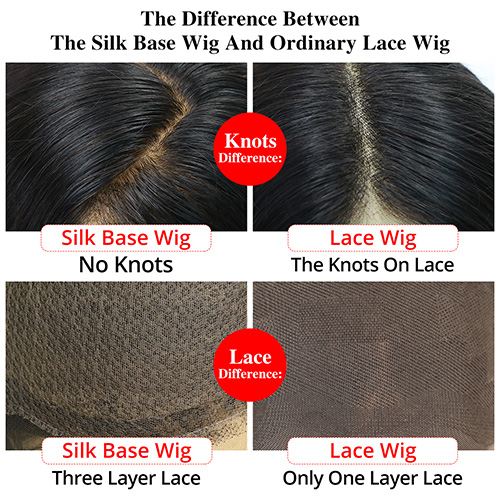 Advantages of silk base wig
Beginner friendly.
No grid, no bleaching. Knots are hidden and invisible, you do not have to go through sophisticated skill-required bleaching process any more. It rightly benefit for people who has no or less experience of handling bleaching. Even if you are a first-try, no fear for grids shown on the top.
No wig cap. As there are three layers of lace, it's thick enough and unable to be see-through, the scalp color is the skin-like nude color , wig cap could be left aside and one more step of installation could be neglected.
Longer lifespan.
From the number of lace, it's nit difficult to understand that, silk base wig is thicker and sturdier than lace wig that only has one layer of lace on the front. Therefore, it's not prone to be damaged easily, and could be used for a longer time.
Less maintenance.
For it's delicate while sturdy, it requires no special treatment to take care of. Naturally you are less bothered regular maintenance as frequent as lace wigs.
Silk base wig from WIGGINS hair
100% high quality unprocessed virgin hair, shedding & tangle free, can be dyed or bleached to #27, and could be permed or restyled.
13*4 ear- to -ear silk base space allows people to do parting any where with knots invisible. Density available for 130%, 180%, 250% to meet your different requirement for hair volume. Pre-plucked hairline with enough baby hair produce a more natural look.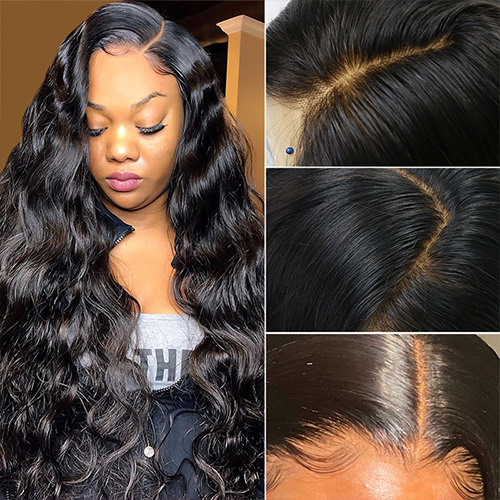 Wanna know more about wiggins silk base wig? Check below link: https://www.wigginshair.com/silk-base-lace-front-wig.html
Back to school sale big promotion,all wigs save 5% + Special discount+free gifts ,to get new look with bottom price now!