Hair, one of an important elements for leveling your beauty up, is payed high attention by both women and men. They usually alter their hairstyle or change hair colors to add their charms. For some black women who suffers from hair flaw no matter caused with born or by other external factors won't be deprived of the rights of having a head of nice hair as they like. The appearance of wigs with all kinds of hair textures and various colors will be like a savior.
Speak of color wigs, what's the hair fashion trend in 2020 ? And as the frequent occurrence of color wigs from YT channel and many social platforms. It's not difficult to conclude that highlight wig has been the super star among those color wigs.
What's highlight wig?
Highlight hair compared with pure colored hair is added with highlights. Highlights are several sections of hair bleached or dyed by hair lightener or a light hair color, which could be done by yourselves or hairstylist. Highlight wig is the ready wig with pre-colored highlights by hair factory. So it not only save your time but also your money to achieve a satisfying hair color.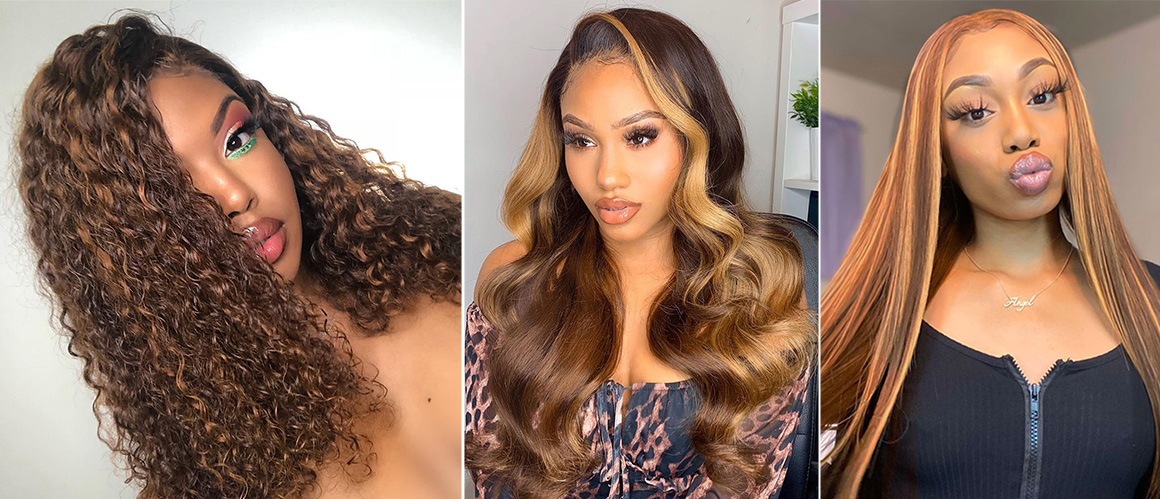 Why highlight wigs are so popular?
1.Ready-to-go wig Pre-colored highlight wig needs no time for process of coloring anymore. Once you receive it, just install and go.
2.Natural hair protection Highlight wig could perfectly meet the demand of people who pursue a highlight color effect on hair but do not want damage their natural hair from chemicals.
3.Show your personality and temperament Highlight color unlike pure color is more flexible and groovy. And women who choose this type of color usually radiates more confidence and the dew of youth. And the difference of color of position will deliver distinctive temperament.
4.Lower maintenance than pure colored hair
Highlights wigs are a very great replacement for pure colored wig when you are bored of monotonous natural black hair. As pure colored hair has whole head of hair going under process of dyeing, which no wonder suffers more damage than highlight one with only several strands of hair hurt but not all hair. Therefore, highlight wigs is less prone to dry and frizzy. And naturally lower maintenance is required than the pure colored one.
Highly recommend highlight wig in WIGGINS hair
Most welcomed one is #017 colored deep wave lace frontal wig. It's Beyoncé inspired. The total design from color shade we choose and highlight section will match black women's skin tone and show add more charm as the same time.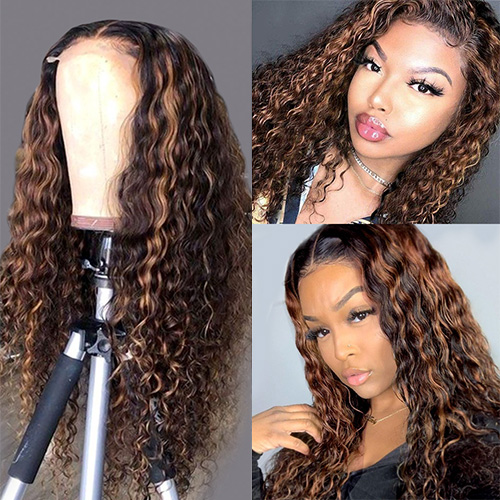 And except for #017, there are many other highlight colors like popular piano color (picture as below), #16, #018, #019 and #NA27, #1b/15. And all of them are available for hair textures as straight,body wave,loose deep, deep wave, natural wave, curly. Wanna know more details? please check the direct link: https://www.wigginshair.com/colored-wigs-highlight-human-hair-lace-front-wigs-ombre-wigs-for-women.html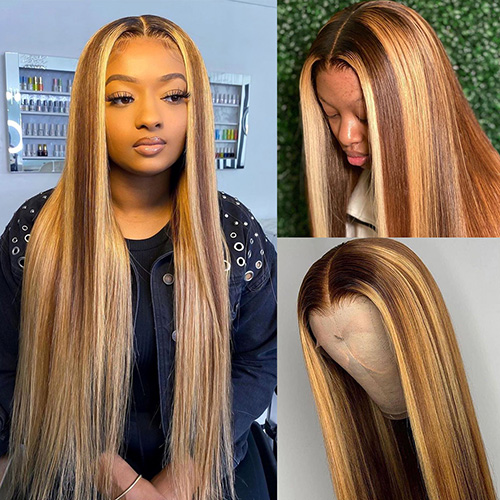 And now with the influence of wind of trendy headband wig, we combine this #017 color with our headband wig to provide more convenience, and it is available on sale now. It could be installed and took off only by yourselves. No glue, no gel, no hairstylist are needed. A must buy for lazy but dedicated girl !
Are you searching for a color wig for fall season?Wig in #017 colored highlights will be a perfect choice. Autumn big promotion now, and to get more free gifts, do not miss this chance.