Each of us has our own hair color when we are born. Some people have black hair, and some may have blonde hair. Sometimes we want to change our hair color to pursue fashion and beauty. So why not choose a beautiful wig for yourself at WIGGINS HAIR? There are so many colorful wigs here, you can choose what you want. Highlights and ombres are both good choices. Do you know the difference between Highlight Wigs and Ombre Wigs?
Regarding highlight wigs, it is based on the original color and adds some bright or light strands. Take the popular P4/613 highlight wig as an example, it is mixed with #4 chocolate brown and #613 blonde. Blonde strands make the brown wig look more fashionable.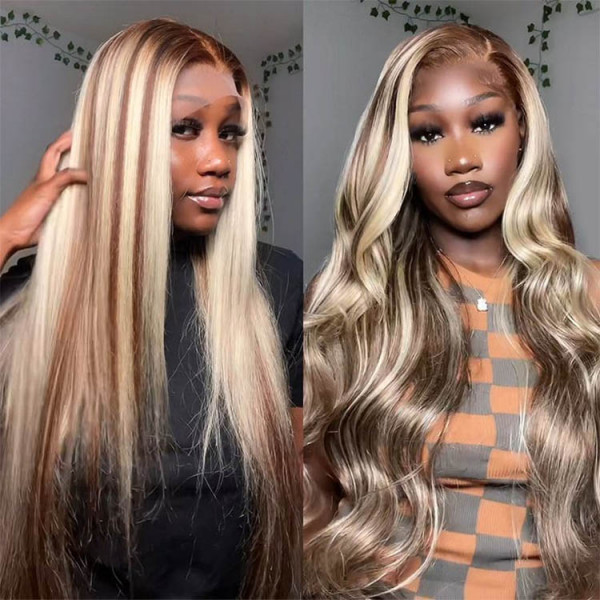 As for ombre wigs, it usually refers to the gradual change of hair color from one color to another or multiple colors. For example, we all know 1B/27 ombre wigs, the roots are natural black and ombre to #27 honey blonde gradually, which looks very natural just like real growing hair.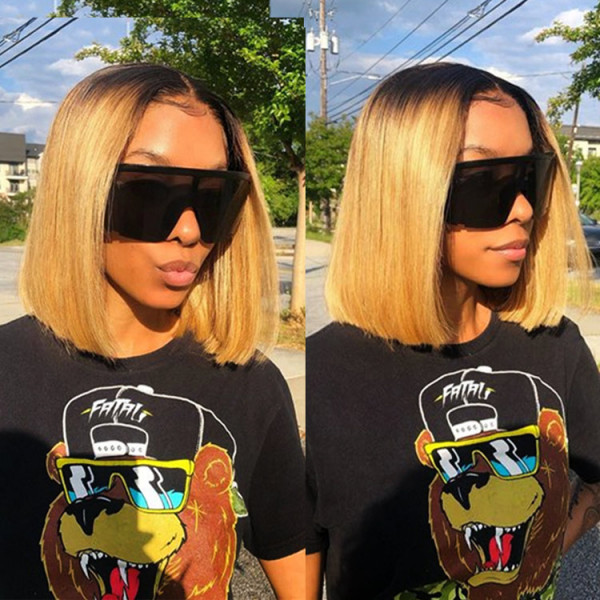 After a general understanding of the difference between the two, of course, we can choose beautiful colored wigs for ourselves. Here are some recommendations.
1. P4/613/Rose Pink Highlight Wigs
The link is:
https://m.wigginshair.com/wiggins-pink-highlights-in-brown-hair-body-wave-lace-closure-frontal-wigs.html
Just like the P4/613 highlight wigs we mentioned earlier, this wig has also added rose pink which makes the wig look more charming. Pink and blonde balayage on brown hair looks also very fashionable, you can wear it when going to parties or traveling. It will definitely make you the focus of attention and get many compliments. There are two kinds of lace sizes that you can choose from, including 5x5 closure wigs and 13x4 lace wigs. Transparent lace with the pre-plucked hairline also makes the hair looks more natural. Besides, we promise all of our wigs are 100% unprocessed human virgin hair, with no chemical procedures. You can rest assured to use it.
2. Wear And Go Wig-Deep Wave Ombre Honey Blonde Wig
The link is:
https://m.wigginshair.com/wear-and-go-wig-deep-wave-ombre-honey-blonde-wig-with-dark-roots-pre-cut-lace.html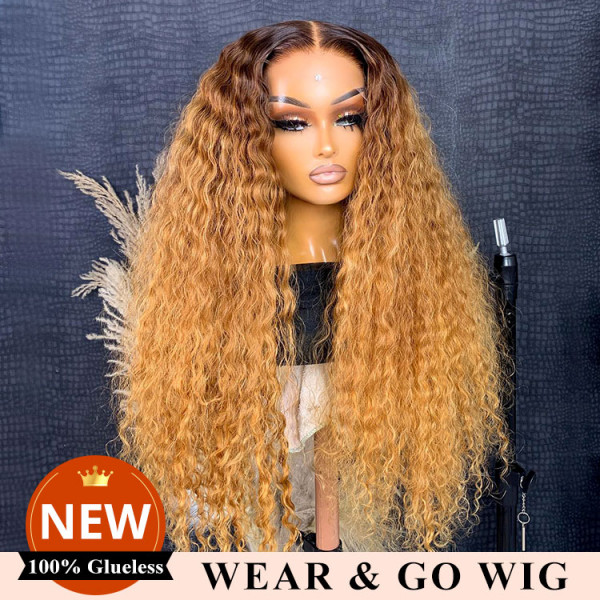 Had your eyes on this wig? It's been in a hot sale recently! The roots are brown and then ombre to curly honey blonde. The color is very fantastic and many people love it. This wig uses 3D dome cap, which is very breathable and comfortable to wear. Pre-cut 5x5 closure wigs also make it easy to install and take off. There is no glue needed and the elastic band inside can guarantee security. You just need 3 seconds to wear and then you can go out. It's super convenient if you are in a hurry. Now we provide a $30 off coupon for the wig, the coupon code is: glueless. Come and you just need to get one for yourself!
3. Honey Blonde Highlights On Black Hair Body Wave Lace Front Wig
The link is:
https://m.wigginshair.com/wiggins-honey-blonde-highlights-on-black-hair-body-wave-lace-front-wig.html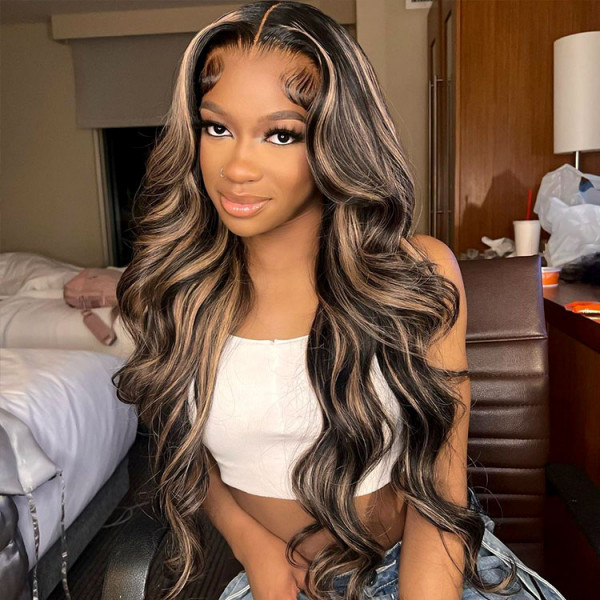 Do you love this black wig with honey blonde highlights? It's very gorgeous. Black is the most natural color. Adding honey blonde highlights to natural black makes hair more durable and fashionable! The wig comes pre-plucked and full 13x4 transparent lace. You can do many styles with the large lace area. It's suitable for many occasions, such as parties, traveling, graduation, and so on. Many customers love this wig so much! Would you like to pick one for yourself, ladies?

Highlight Wigs VS. Ombre Wigs, what kind do you prefer? Come and pick out your favorite wigs at WIGGINS HAIR! Hope our hair can bring more beauty for you! For more beautiful colored wigs, please visit this link: https://m.wigginshair.com/colored-wigs.html