Nowadays, wig becomes trendy not just for natural hair issues like hairless, thin hair and so on, but also for fashion purpose. If you are a human hair lace wig wearer or one of wig addicts. You will not unfamiliar with two phrases "full lace wig" and "lace frontal wig". They are usually compared by people, so there is a question that full lace wig VS lace frontal wig , which is better? For this question, today's blog may help you find the answer.
First we have to know the difference of them from construction, which is also the important factor to determine their features and functions.
What's lace frontal wig?
Lace frontal wig as what is called is constructed by a sheer of lace which cover only the front part of whole wig cap with hair knotted to it, and the rest part is composed of another comfortable and extensible material with hair bundles stitched to it. Lace portion stretches from ear to ear in horizontal direction so it's also well know as ear-to-ear wigs. And vertical depth are usually in 4 and 6 inches. According to which, there are two types lace frontal wig, 13*4 lace frontal wig and 13*6 lace frontal wig. In WIGGINS hair store,they are upgraded to 3D cap to better fit your head than regular flat version.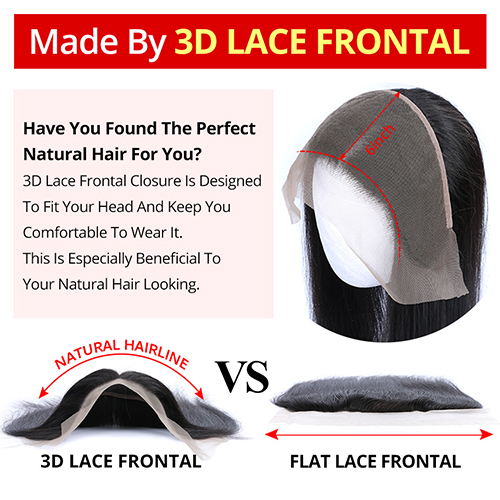 What's full lace wig?
Full lace wig, from its name you it's not difficult to understand that it's constituted by a lace cap which could wrap entire head with hair tied to the lace by hand. Sam e as lace frontal wig there are three combs inside the wig(two on both sides and one at back) to avoid slippage of it. Adjustable band is set at the nape of neck to adjust cap size fit head more properly.

Full lace wig VS lace frontal wig
From above it could be seen that the most obvious difference lies in the size of lace. It also contributes to their different features and functions. Here will analyze them from five points.
1.Versatility Parting is available wherever lace is, so full lace wig is flexible to do parting anywhere as you like. Meanwhile, various hairstyle are allowed for full lace wig such as high ponytail, braids, bun or any up-dos hairstyles, which benefits from large lace space. On the contrary, hairstyles for lace frontal wig is limited. However, 13*6 and 13*4 lace size is already enough for people who just want hair down or low ponytail as daily hairstyle.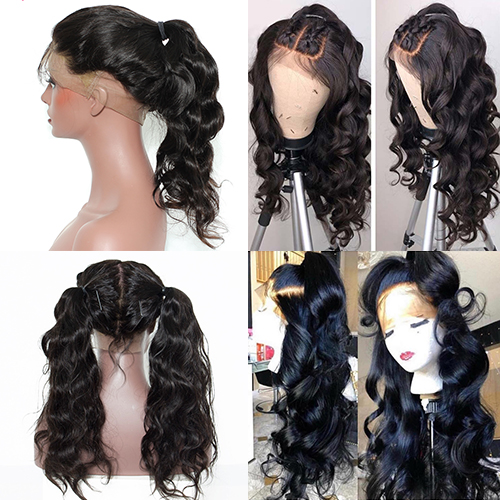 2.Naturalness
As the lace with hair crocheted closely mimic scalp of human head with hair growing from it, both of lace frontal wig and full lace wig look natural from the front, and pre-pluck is done by WIGGINS hair will make your hairline more realistic.But if for up-dos styles, full lace wig is more advantageous, as the lace also cover the back of head.
3.Breathability Lace instead of other material will allow your scalp to breathe, which is beneficial for reducing the the growth of bad bacteria, and keep your scalp and your own hair healthy. Unbreathable wig cap will lead to more sweat that will produce a more favorable circumstance for bacteria. Therefore, compared with regular lace frontal wig, full lace wigs are a better choice for summer season.
4.Durability Under proper care, lace frontal wig could last from 6 months to more than once year. Full lace wig could be used for longer time if you take good care of it.
5.Cost When it comes to cost, full lace wig will be overshadowed by lace frontal wig. As the former with larger costly lace material and more handicraft cost to crochet the hair is much more expensive. While the later one is more affordable for whose budget is limited. Which one is better?
From above it could be seen that the the most obvious difference of lace frontal wig and full lace wig is the size of lace part. If you ask full lace wig VS lace frontal wig,which is better. There is no specified answer. Full lace wig seems more versatile, breathable and has longer usage time, but it costs more. While Lace frontal wig is completely enough as a everyday wig at a affordable price. The answer to this question is up to your needs and budget. Weigh those two factors, then choose the most suitable wig for yourself.