As we all know, Double 11 has now become the biggest online shopping festival in the world, many people choose to buy wigs on Double 11, so how can we get bigger discounts During Double 11 Big Sale? Next step I will give you a detailed introduction to how to get a bigger discount, let's get started!
1 GET COUPONS ON THE SITE
The discount for Double 11 is very big! And all orders can get a free wig, don't miss it! Add your favorite wigs to your cart first!
$10 Off Over $139, Code: B10
$25 Off Over $269, Code: B25
$50 Off Over $399, Code: B50
Haven't you registered as a VIP on the website yet? If not, register quickly! As long as we register an account on the website, we will become one of the VIP members of Wiggins Hair. The more we spend on the site, we can get more points and redeem bigger coupons! Click on the "My Account" page, and we will see "VIP PRIVILEGES-EXCLUSIVE BIG COUPON" at the bottom of the page, click "EXCLUSIVE BIG COUPON", we can see the current VIP exclusive coupon, then click "GET", we will get the coupon code, then we can apply the coupon when we check out, The duration of these coupons is usually one month. So it is recommended that you place an order before the coupon expires, we can collect the coupon and use it with the gift card, which can save more money! If you have not placed an order on the website, or have not registered an account, we can also use the coupon on the website!


3 REDEEM GIFT CARDS
Click "MY REWARD POINTS", and we can see the points balance, return to the previous page and Click "POINTS REDEEM", we can redeem corresponding gift cards according to the points balance. The gift card can be used with a coupon and there is no expiration time. Gift cards, like coupons, can only be used one at a time, so we recommend that you redeem the maximum amount of gift cards based on your points balance.


4 EARN MORE POINTS
Points can be redeemed for gift cards, gift packs, or wigs to help you save money! We can earn points by browsing wig pages, following the Instagram and Facebook accounts of Wiggins Hair, following the Youtube Channel of Wiggins Hair, and logging our account on the website every day! The more points we have, the more gift cards we can redeem. Don't hesitate to earn more points!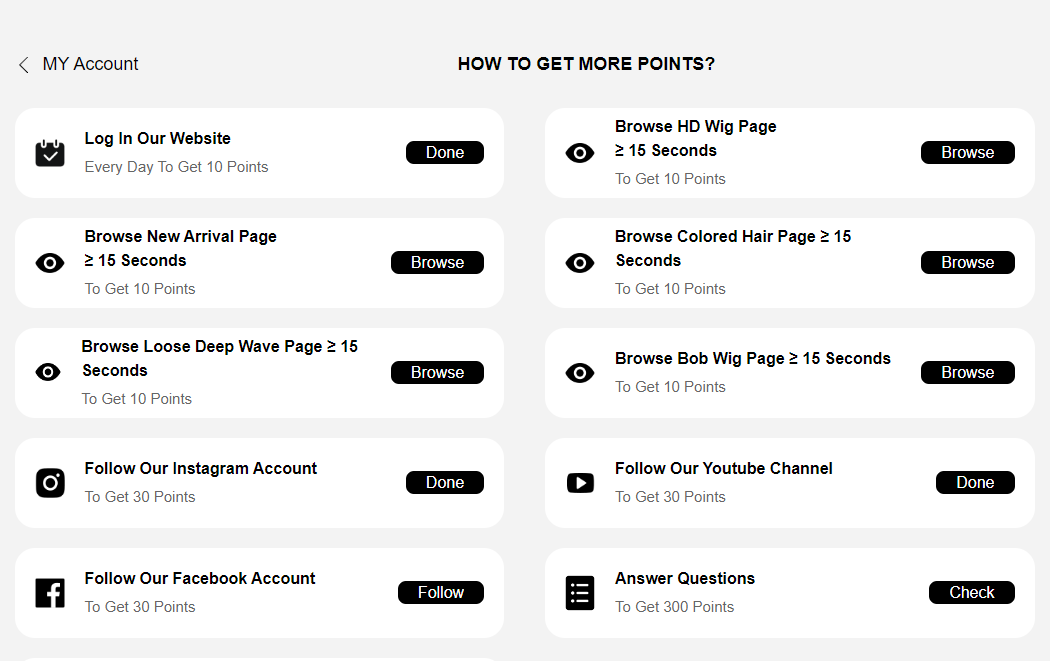 Fans familiar with Wiggins Hair know that we can get double points for orders placed on the website, and new users can also get an additional discount of $5. During Double 11, we will also get double points for any order! There are a lot of orders during Double 11, the sooner you place an order, the sooner you can receive your package!