Human hair bundles gains its popularity and still keeps it very well today. Even tough there are many product emerging with similar function or even more. It couldn't be totally replaced. Today's blog will provide analysis, which starts from what's human hair bundles.
What' human hair hair bundles?
Human hair bundles are a collection of hair extension wefts which are rolled up neatly and tied by rubber bands wrapped by ribbons. And according to the sources of hair, they are usually divided to several types: Brazilian hair, Peruvian hair, Malaysian hair, Indian hair and so no.
Hair textures
There are 6 most popular hair texture type available on website of wiggins hair. In top human hair quality they are designed as straight, body wave,loose wave, loose deep wave, deep wave, water wave, curly to satisfy a variety of demand of market. Different hair textures could show you various temperament, there must be one or more kinds that cater to your taste.

Features of human hair bundles
There are three main features for human hair bundles.
Realistic looking
Human hair bundles blend very well to your own hair, as it's just made from real hair full of healthy and natural lustre. While synthetic counterpart could never replace flawlessly. As synthetic one just give people a "synthetic "sense. Without or with styling or dying if possible, they could seamlessly merge to your own hair. It will be hard for untrained people recognize the additional hair out.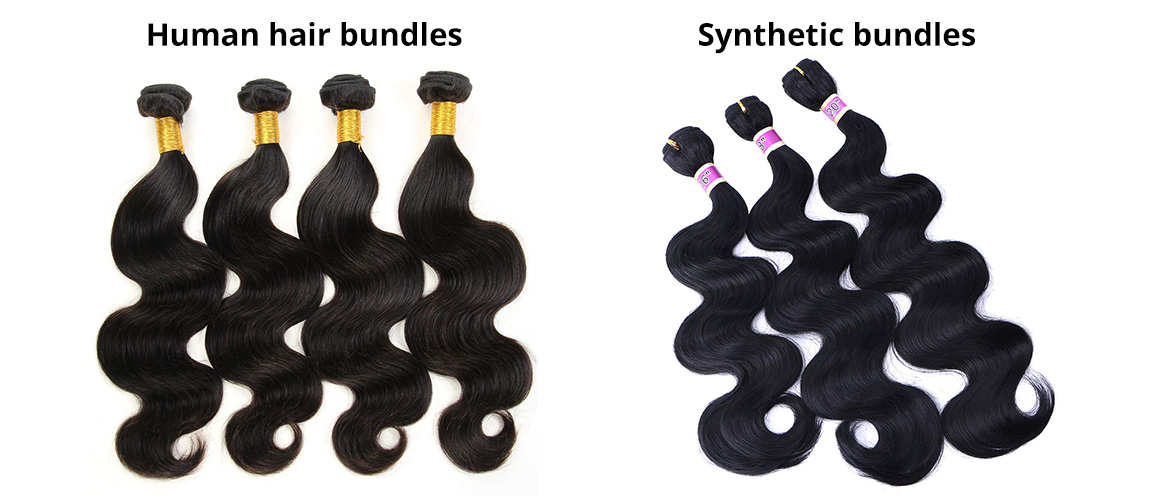 Variable styles
Is there a moment that you have to change your hair style for a special occasion or just a momentary impulse to transform your hair color to follow the trendy color this year. But at the same time, you are worried that chemical products and heating or styling tools will damage your own hair. Human hair bundles could not only keep this hassle away from you by allowing dying, curl or perm as our own hair, but also make some seemly impossible hope to realize like you wish your hair "grow very long magically after one night". The longest length now is 40 inches help you to make this dream come true. Welcome to have a try.
Less cost
Compared with lace frontal wig, bundles as one part of wig accessories, the cost of which is much less. One or two bundles will be enough for you to add your hair volumes or for a cute ponytail and bun hairstyle.
During summer season, ponytail and bun hair styles are more favorable as you could expose more of your neck or back in the air for heat dissipation. So human hair bundles are no wonder a great choice. WIGGINS human hair bundles are made from top quality human hair with double wefts which could better fix hair and avoid shedding. Therefore,why do you hesitate?Choose wiggins hair, and 8A hair quality under rock-bottom price waits for you. Give us a chance to bring more cool to you in this hot summer.