Are you a member of people who needs wigs but do not like to wear wigs for you are a "glue-weariness" people? You may be troubled by messing up installing wig without using glue properly,just dislike your scalp covered by sticky feeling of glue,or even say no to glue as you are allergic to it?
How to solve these problem for those wig demanders? U-part wigs opens the door of hope for them.
What's the U-part wig?
U part wig unit is constructed by sewing extensions to a U-shaped wig cap without top portion covered with combs inside the wigs to help fix wig on head. It allows a small portion of natural hair leave out to blend with wig hair to add your hair volume conveniently. Unlike the regular lace frontal wig or lace closure wig , there is no lace section in the wig, so there is no need to use glue to melt lace when install. You may ask will wig fall down easily without glue?No worries, as you can see there are six clips scatter to vital spots to help secure wig safely. Three of them set along the track U-Pattern opening. There are two on both sides above the ears. Last one is fixed at the back of the wig. Besides, adjustable strap at the bottom of wig could be adjusted the cap size to fit your head proper.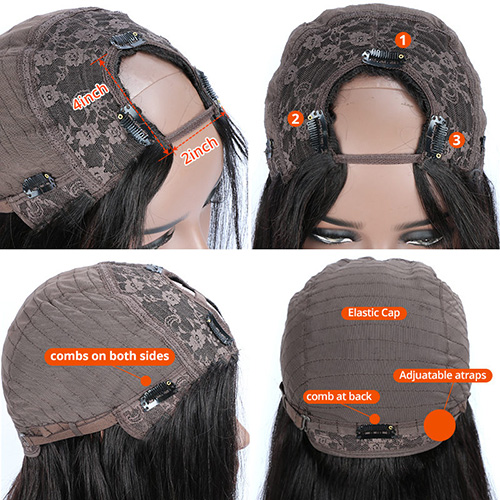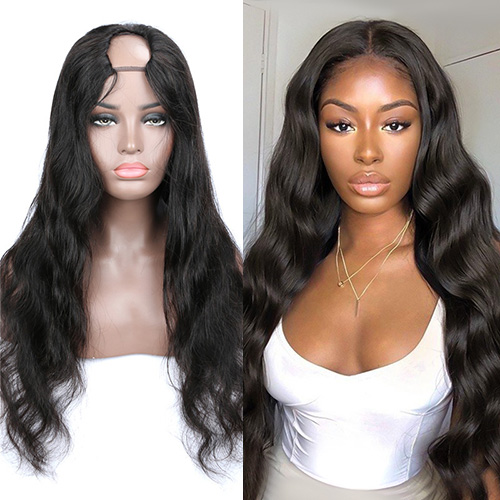 How to install a u-part wig?
Gluless-install u-part wig could save your much time. There are 6 steps for you to reach a flawless hair goal within 3 minutes.
1.Leave out the space of your natural hair to match the width of u-part size (2*4inches)

2.Braid rest of hair and the left-out part individually.

3.Secure the u-part crown with clips inside the wig tracing the border of left-out seamlessly.

4.Untie the braid of the hair for parting space

5.Use style iron to style your natural hair to mimic the hair texture of wig.

6.Use edge control to make your hairline more natural.
Features of U-part wig
1.Very affordable price

2.Convenient &time-saving installation for beginners

3.Lower maintenance than lace wig

4.More breathable for scalp

5.Keeping you from damaging glue and sew-in method

6.More natural parting space and hairline

7.100% easily removable
Where to find best u-part wig?
WIGGINS hair always views the quality of hair as our most fundamental core of our brand.
All of hair products here are made from selected high quality 100% human hair, U part wig, of course, won't be an exception. Here are 7 types of hair textures of it for your choice(Straight, body wave, curly, loose deep wave, deep wave, natural wave and kinky straight). Three U-Part opening directions as below picture are designed to meet your daily parting demand. As a new promotion product, there is big discount for our U-part wig. If you are looking for this kind of wig, do not miss the chance to enjoy bottom price now.