The hair style can affect your whole look. And now there are more and more kinds of human hair wigs in the market. In this case, it is very difficult and a challenging for women and girls to find the best when choosing a wig.
In order to achieve a perfect effect, so when choose a wig, you should not only consider the wig's texture, color, lace size, cap construction and materials, but also take into the length. Different wig length comes along with their own features that you should pay attention to. Wiggins Hair has been in this field for many yeas. Based on our past experiences and customers' feedback. Here are a few things you should know in order to help you choose the right hair length.

1. Before choose the length, we should know that how to measure it.
The hair length of straight hair wigs should be measured by the length from the first track (The track closest to lace) to the longest hair at the bottom. But for the wavy wig, the hair needs to be totally stretched to straight to measure the length. That's because the wavy texture makes the hair look shorter than its true length. In the below wig length chart, we will show you everything about wig length in order to help you choose the best wig length for yourself.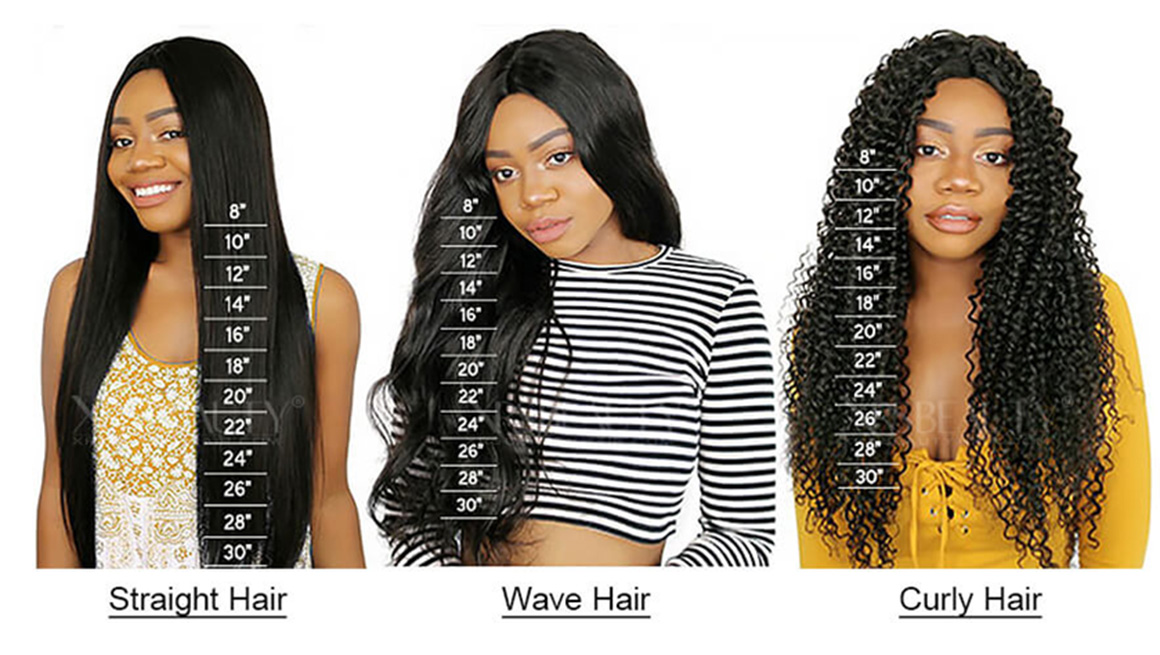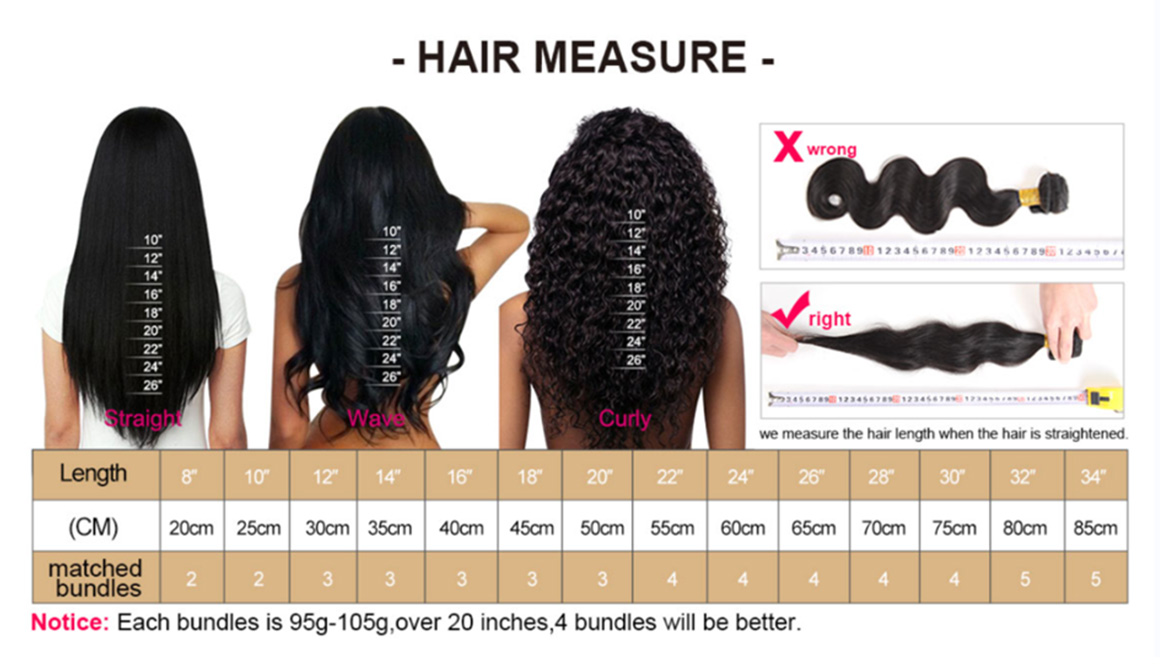 2. Categories of wig length
Normally, there are three types of wigs depending on the length of the hair.
They are Short wigs, Medium length wigs and long wigs
Short wigs: short length wigs are anywhere from a couple of inches to 16 inch long. In general, it refers to all kinds of bob wigs, cut short wavy wigs and super short wigs. It is easier to be taken care of, maintain, and convenient to style. Of course, the most important is that it costs less.
Medium length wigs: Medium length wigs are normally defined from 18 inch to 24inch. It is the most popular with customers. It can be made in many styles. And the price is more favorable compared to long hairs.
Long length wigs: Long length wigs are described as from 26 inch to longer. You will need to spend more time on grooming it. And it is expensive. But it looks really beautiful. You look more elegant and charming on wearing it.

3. The factors that affect the hair length you choose:
★ Decide how long you want your hair to look: If you want a popular and fashionable bob, go shorter. If you want an elegant and charming look, get longer. But pls keep in mind that the longer the wig is , the more expensive it will be.
★ Hair texture and density: Remember that curly and wavy hair shrinks a bit naturally. So, if you want a long curly look, you will have to choose a length that is a few inches longer than you want the wig to lay. And for the density, a higher density wig is more likely to be full throughout the entire length of the wig, whereas a lower density wig may not be.
★ Face shape and body features: The face shape is an important factor to be considered when choosing length. If you have an oval shaped face, you can wear virtually any wig length. But if you have a round face, longer length will be more flattering for you. Rectangular face, a short layered style would be best. Normally if you are blow average height, the average wig will appear longer on you. On the other hand, if you are tall, it looks shorter on you.
★ Evaluate your lifestyle: If you have a particularly active lifestyle, we suggest that you can go for shorter wig, so it will not take more time to deal with them.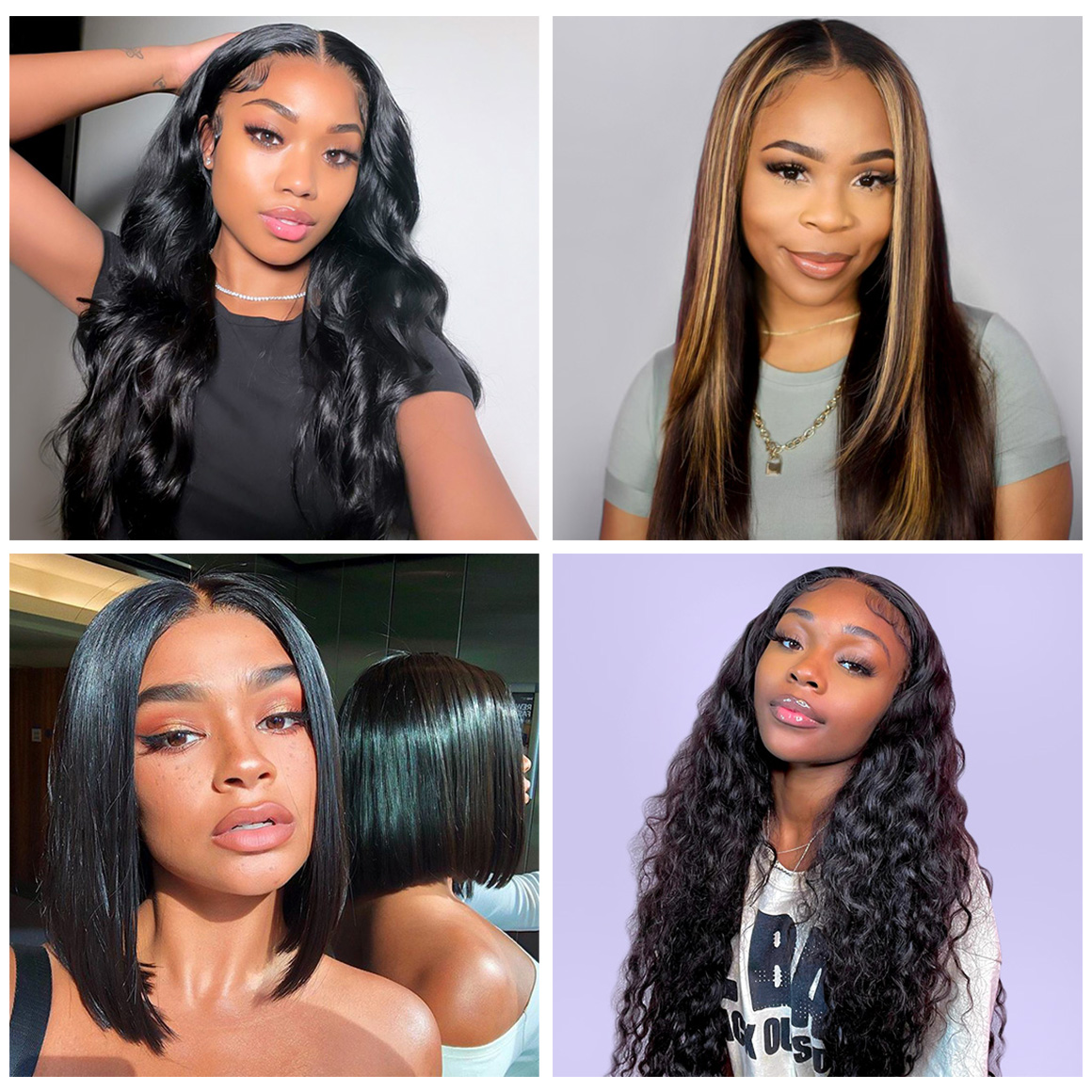 At last, we want to say that maybe we purchase wigs for a variety of reasons, so we may choose different lengths at different times. Sometimes short and light color wigs, sometimes extra long wigs. However, whatever you choose, what suits you is the most important. Shop Wiggins Hair for true length wigs that look unbelievably natural and unexpectedly beautiful.