Are you a beginner in lace wigs or want to know more about lace wigs? If yes, please read this guide. We will introduce the details about wig size, lace wig type and Best Recommended - Wear & Go Glueless Wigs to beginners. Knowing more about lace wigs can help you achieve your style effortlessly and wear your wig with more beauty and confidence!
Wig Size
The caps size of lace wigs come in small, medium, and large. To make sure the wig cap fits your head better, please measure the size of your head circumference to determine the size of the wig cap you need to order. Usually, the size of the wigs on Wiggins Hair website defaults to a medium. If you want a large or small cap size, please leave us a message while placing an order, or contact our official customer service to help you make a note. The size and measurement are as below picture shows: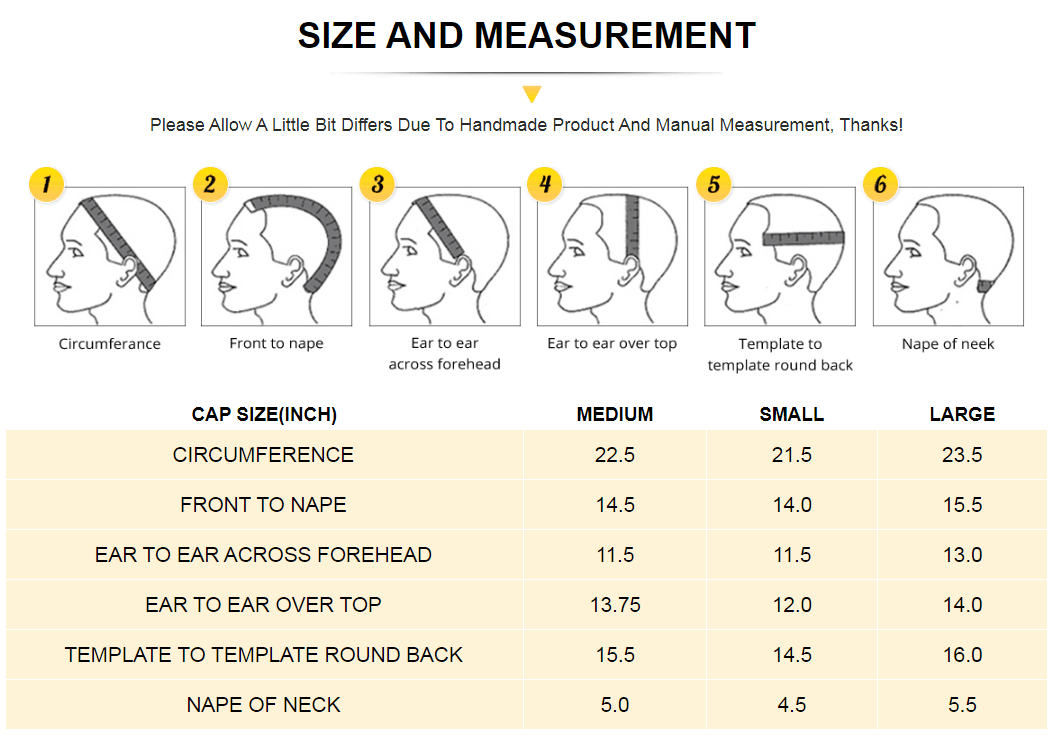 Lace Wig Type
1)Lace Size
There are different lace sizes of lace wigs, including 4x4/5x5/6x6/7x4/9x5 lace closure wigs, 13x4/13x6/360 lace front wigs, and full lace wigs. The larger the lace structure, the more space you can do hair styling, and the wider the edge of your hairline you will get, and more natural the ultimate result is.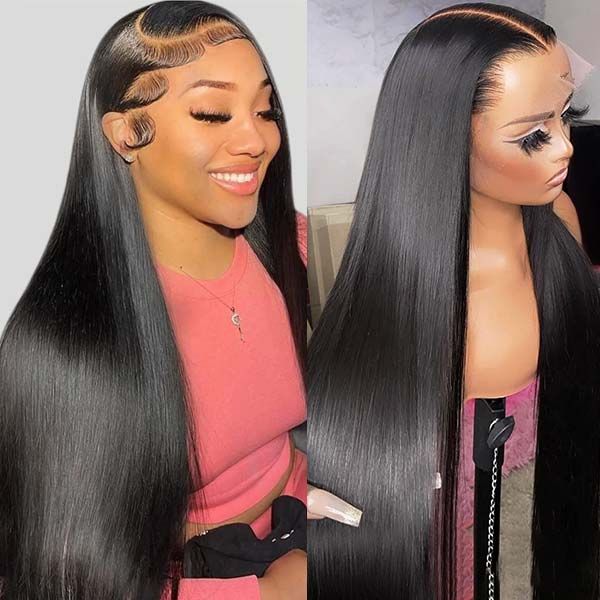 2)Lace Type
The lace comes in different colors, such as HD lace, transparent lace, light brown lace, and medium brown lace. The most recommended is HD lace wigs, it is the best Swiss lace, which is undetectable invisible and suitable for all skin tones.
3)Hair Wave
At Wiggins Hair, you can find Straight, Body Wave, Loose Deep Wave, Deep Wave, Natural/ Water Wave, Curly Wave, Yaki/Kinky Straight Wave wigs, different curls represent different styles which are getting tighter from the first one to the last one. This is also an important point to focus on when choosing a lace wig.
4)Hair Density
The density of wigs normally includes 150%, 180%, 200%, and 250%. 250% density is the fullest and thickest. We recommend choosing a higher density for longer hair. It depends on your personal preference for the fullness of a wig.
5)Hair Length
Wiggins Hair provides the length of the lace wigs from 8inch to 40inch. You can find short, medium, and long hair-length wigs here! They come in a variety of lengths so you can choose to show off your different styles.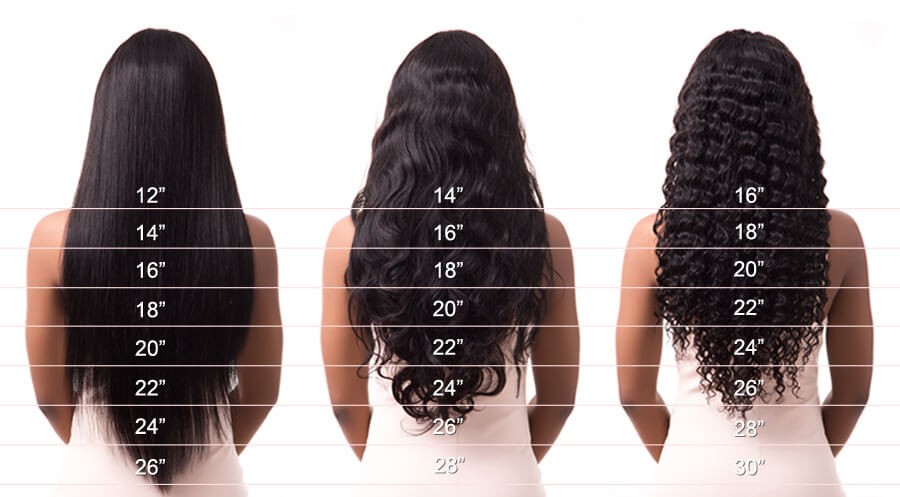 6)Hair Color
There are many colored lace wigs on the market. For beginners, you may get overwhelmed when choosing the right color wig for yourself. We suggest you try a casual colored lace wig for the first time, it will be easier for you to harness and you won't feel out of place. It's better to try a flamboyant colored wig later.
Best Recommended - Wear & Go Glueless Wigs
The best for beginners is the Wear And Go Wig! Wiggins Hair provides 100% glueless 5x5/9x5 lace closure wigs with different kinds of hair textures and colors, pre-cut transparent lace, pre-plucked hairline with baby hair, and pre-bleached with the smallest knots. No glue no gel no worried about allergies, 3s install & 1s take off, no skills needed! Beginner-friendly high-quality human hair wigs, shop now can get an extra $30 off with code: Glueless!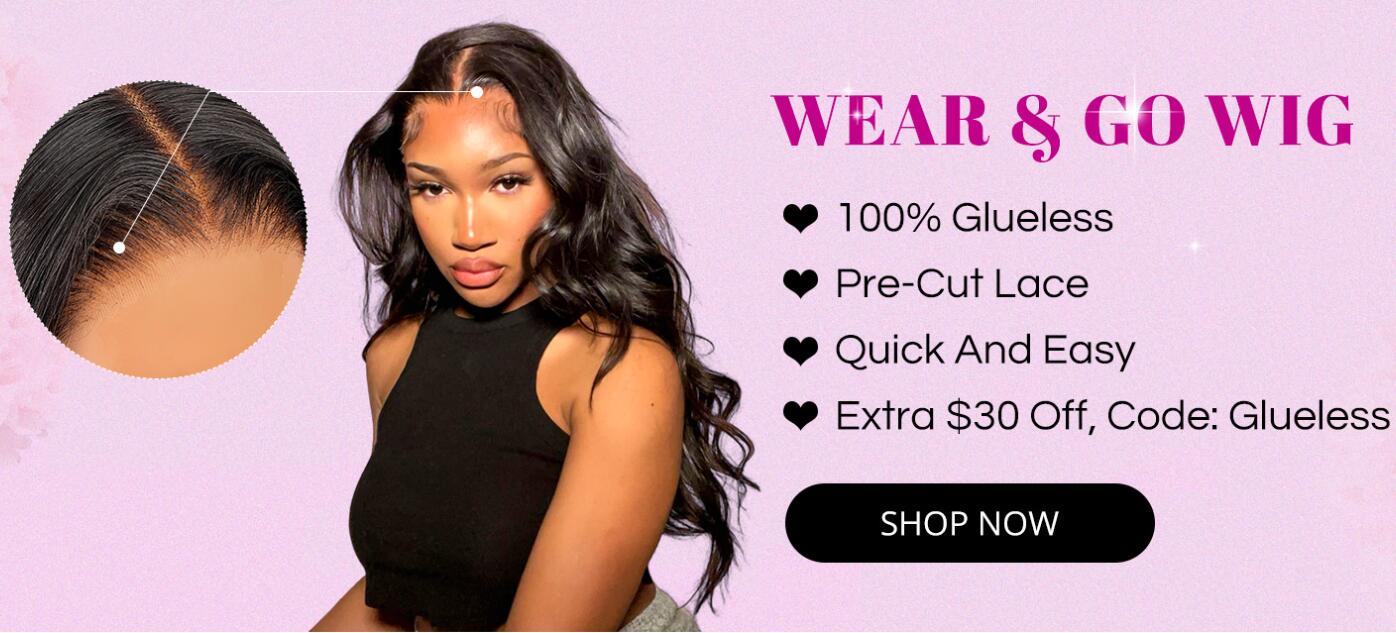 Wiggins Hair sincerely hopes that all beauty-seeking women and wig beginners can easily get the perfect look for their daily life and important events. Welcome to start your lace wig journey from here!
For more tips about hair care please click this link:
https://m.wigginshair.com/helpful-hair-care-tips