Halloween is here again, and it's a new opportunity to get a new wig that match your Halloween costume. On Wiggins Hair Website, there's plenty of beautiful wigs for choosing, which may inspire your Halloween look. Let's take a look.
Auburn Orange Hair Color Body Wave Lace Front Wigs
The link is:
https://m.wigginshair.com/auburn-orange-hair-color-body-wave-lace-front-wigs-with-pre-plucked-hairline.html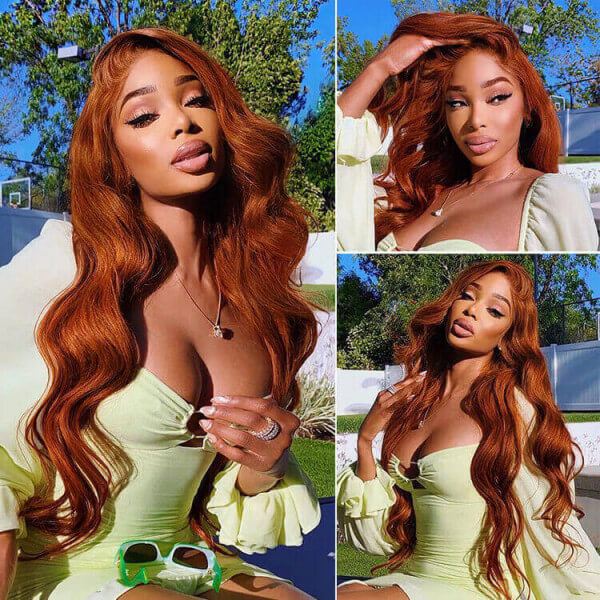 According to Google Trends, searches for "warm Auburn Orange color" have increased 200 percent in the past 30 days, making it one of the biggest hair colors of the year. A famous designer said: "For too long time, there has been too much emphasis on cool, off-white, and silvery-white hair, which tends to lighten the complexion. Now people are starting to embrace the natural warmth of their hair, which creates a more organic, sun-kissed feel that doesn't feel too artificial." Auburn Orange tones are the ultimate antidote to shades of gray. And this hair color also matches perfectly with many Halloween costumes like witch or vampire costumes.
Deep Wave Ombre Honey Blonde Wig With Dark Roots
The link is: https://m.wigginshair.com/wear-and-go-wig-deep-wave-ombre-honey-blonde-wig-with-dark-roots-pre-cut-lace.html
When seeing this color, People always associate it with Halloween, so this is also a perfect wig for Halloween, that you can perfectly blend in with the festive atmosphere. Honey Blonde is the perfect color for fall, winter, and Halloween. Their hair turns a natural yellow when exposed to the sun. Honey Blonde is always popular at this time of year, as the leaves start to turn, ombre Honey Blonde hair with dark roots is particularly good, adding a warm glow to dark hair is also a great way to go with the trend, and when the light hits your hair, it gives it the perfect shine.
Blonde Balayage On Brown Hair Straight Glueless Wig
The link is: https://m.wigginshair.com/wear-and-go-wig-blonde-balayage-on-brown-hair-straight-glueless-hd-5x5-9x5-frontal-wig.html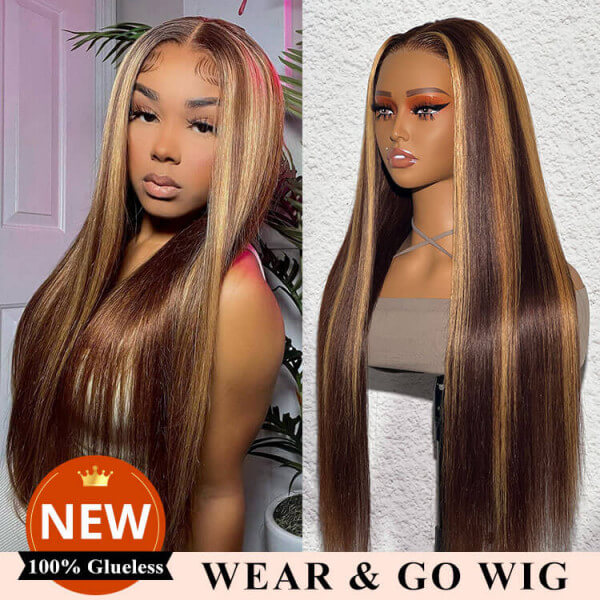 In the past, Halloween wigs have been mostly in dramatic or bright colors. Try a different highlight color to make you stand out. This combination of chocolate brown and honey blonde can look surprisingly good when paired with an outfit that matches it. Also, as a Wear and go wig, it is very easy to get installed, you can put this wig on in less than five minutes.

Red Highlights On Black Hair Body Wave Lace Front Wigs
The link is: https://m.wigginshair.com/wiggins-red-highlights-on-black-hair-body-wave-13x4-lace-front-wigs-pre-plucked-hairline.html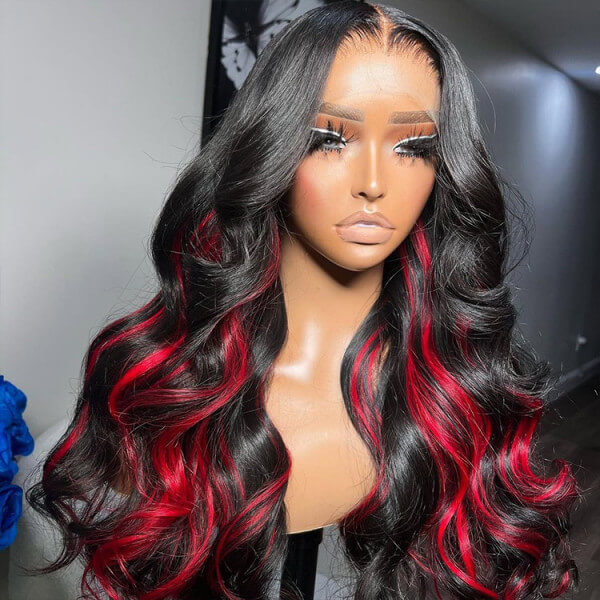 The combination of red and black, this is a queen-like hairstyle, this highlight wig launched by Wiggins in the second half of the year has been very popular since its release. So please don't miss this wig, even if it is not for Halloween,you can also wear the wig when you participate in parties.
In conclusion, if you would like to get any of the above 4 best-selling wigs, we recommend that you place an order as soon as possible, because Halloween is coming soon. Get the wig early, and you can pick some costumes to match it in advance. Wiggins Hair has been dedicate to providing high-quality hair, don't hesitate to get your Halloween Wig!