Recently new type of non-lace wig, headband wig becomes attention-grabber quickly.
For why the appearance of this new product could hit the mark, today's blog are divided into three parts to analysis the reasons.
What is headband wig?
Construction of the headband wig
Why headband wigs are highly required ?
What is headband wig?
Headband wig is a type of non-lace wigs, without lace part in the front, there is an elastic cloth attached to the rest half of the wig. Matched headscarves could be changeable and used to put rightly over the cloth. This design perfectly combines wigs with head accessories, which not only adds another eye-catching point for the wig, but also keep off the sophisticated application process for common lace wigs.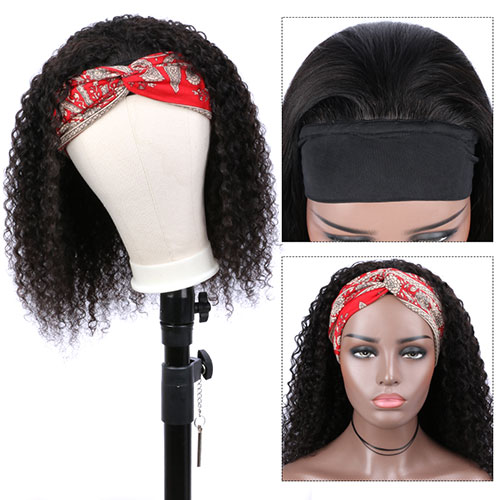 Construction of the headband wig
It is the combination of machine-made wig and headband. Wig section is constituted by breathable wig cap material with 100% high-end human hair collected from unprocessed virgin hair of donators. Elastic cloth is soft and stretchable that allows the cap size fit head properly. And Velcro fastener tapes at the two end of cloth band works together with 5 combs to avoid the falling off.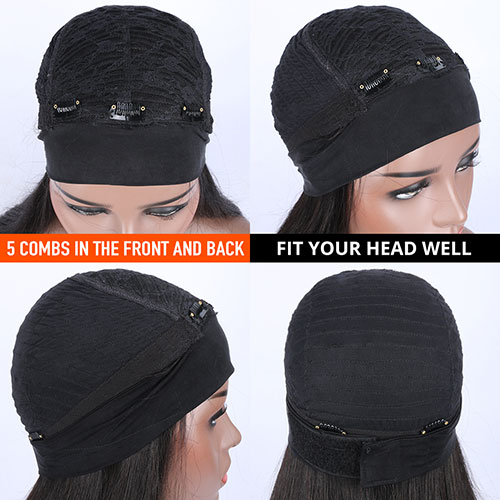 Why headband wigs highly required?
1.Very convenient to wear as well as remove. Complicated steps for lace wig installation like bleaching, plucking, glue down or sew in are not needed any more. For headband wig, what you need to do is to throw in and go. So it's simple and easy for people who usually could not handle with lace wigs well to wear headband by themselves without seeking the help of hairstylist.
2.Time-saving. No need of a series of fussy preparing work or installation process. Working-class girls lack of sleep could benefit a lot from it. And when urgent errand comes to them , they will not be like a duck in the thunderstorm any more for thinking how to conceal the messy hair in a very limited time. Just catch the headband wig and go out.
3.Cost-effective. Headband wig is less cost than equivalent lace frontal wig. As headband wig is completely machine-made, while the latter one is labor-intensive, the price of headband wig is more affordable. Moreover, as what mentioned before, the charge from hairstylist for both of wig installation and removal could be saved as well. It's actually the implicit consumption for lace wigs.
4.Most realistic hairline. Lace wig the frontal of wig had to be positioned rightly along your hairline, but which will also cover your real hairline, and the finished look of edge is determined by many factors like lace quality, and skills you melt lace and so on. If one of step goes wrong, then the whole look will be like wearing a "helmet"But headband wigs could be worn hide your hairline or put backward a little bit to expose your own natural hairline and use edge control to achieve the edge shape as will.
5.Variable styles. As headscarf is a separated from elastic cloth, it's changeable. Different headbands could be used to suit diverse occasions , match various types of make up and your clothes to show your distinct temperament. And with the it cover whole circumstance of the head, it allows you to do ponytail or buns for special occasion like fitness room, yoga gym etc. especially in hot summer.
In view of above, are you excited? Would you like to have a try for this headband wig to follow the wind of hair fashion trend? If you want to know more details of headband wig, please check below link: https://www.wigginshair.com/headband-wigs-human-hair-half-wigs-no-plucking-wigs-for-women.html You are warmly welcomed by WIGGINS hair any time.