Autumn is a beautiful, gentle, harvest, miss, golden, happy season. In the busy work and life, ladies should not forget to maintain the personality of the pursuit of beauty, but should take the time to enjoy this cozy season.
Are you planning hairstyles and seeking inspiration for the coming autumn? Here are four wig styles Wiggins Hair recommends for customers which are perfect for autumn. Which one do you like best?
NO.1 The Most Fashionable Blonde Highlights Wig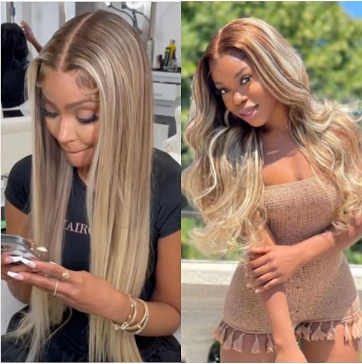 The first wig to be recommended for girls, of course, it's the hottest wig of the moment : Blonde Highlights Lace Front Wigs. This wig is highlighted in color #4 and color #613 which are good for black skin. These two colors not only are very stylish together, but also a hairstyle recommended by many influencers.
There are two lace size you can choose, 5x5 Wig and 13x4 Wig. You can also choose the Body Wave texture which looks gentler. Click on the link to learn more:
https://www.wigginshair.com/wiggins-brown-wig-with-blonde-highlights-straight-p4-613-piano-lace-front-wig.html
NO.2 Never Go Out Of Style Wig
If you're a girl who's worn a wig for years, chances are you've already tried this look, because it's one of our best-selling wigs all year round. This highlight wig is hand dyed in color #4 and color #27 by professional hairstylists. The combination of colours is brilliant. There are four most popular hair wave for you to choose: Body Wave, Straight, Curly Wave, Loose Deep Wave. This highlight wig is extremely stunning and never goes out of style. The most important thing is that the color is perfect for autumn. Here's the link:
https://www.wigginshair.com/colored-wigs-highlight-human-hair-lace-front-wigs-ombre-wigs-for-women.html
NO.3 Classic Dark Brown Color Wig For Autumn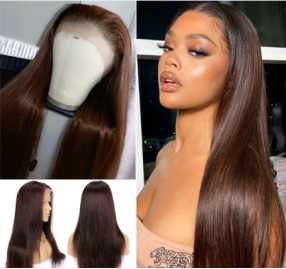 Wiggins Hair Straight and Body wave human hair dark brown color lace front wigs are in color #4 with baby hair pre-plucked. And it is processed with the finest Swiss lace which is very transparent. The Medium brown wigs have a very strong sheen and great quality, and the unique glow of this hair color can make you look even more beautiful. This medium brown wig is perfect for matching your autumn clothing and look. Our site has 180%-250% density and 16-28 Inches short and long wig for you to choose:
https://www.wigginshair.com/4-lace-frontal-wigs-1b-4-straight-and-body-wave-ombre-lace-front-wigs.html
NO.4 New Arrival Gorgeous Highlight Wig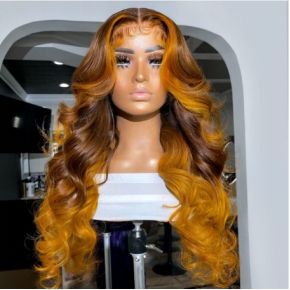 WIGGINS HAIR New Arrival Ginger Brown Lace Front Wigs looks very gorgeous. It is in Straight and Body wave and the length is from 14 to 28 inch. Ginger Brown color looks so cute and perfect for autumn without monotony. As soon as this wig hit the shelves, we have received a large number of orders. This color scheme is very gorgeous to attract people's attention. If you're wearing it at a party, on the runway, or on the street, you'll be the one to shine. Don't hesitate to own it now:
https://www.wigginshair.com/wiggins-ginger-brown-highlight-lace-front-wigs-human-hair-brown-wig-with-ginger-highlights.html
The four wigs above are all colored wigs, whichever style you like, we sincerely hope that Wiggins hair adds to the beauty of our customers in the colorful Autumn. Wish you a beautiful mood in the comfortable and cool autumn.