Say goodbye to the spring when everything comes back to life and a hundred flowers bloom, we are about to usher in the hot summer. In summer, we wear cool suspender skirts or dresses, and the necessary part of the perfect outfit is a beautiful wig. A beautiful wig style can make the whole outfit look perfect, this blog is about some wig styles that make you look fresher in summer.
1. The shape with two small horns in frontal
The wig style in the picture looks so beautiful, playful, cute, and lively, there has two small horns on the lace frontal. This wig style is also relatively simple to make, all you need to do is make a middle part on the wig first, and then take a small amount of hair on each side, tie it into a small horn shape, and secure it with a small black rubber band or clip if you do it by the steps, you will get the wig style you see on the picture.
The wig I recommend for this style is 250% Density Popping Curly 13x4 Lace Front Wig, this Curly wig is full and thick from top to end and layered popping fluffy curls. Because of the full thickness of the wig, even with part of the hair tied up, the wig still looks very full!
The link to this wig is:
https://m.wigginshair.com/wiggins-250-density-curly-13x4-lace-front-wigs-medium-length-human-hair-wigs-for-sale.html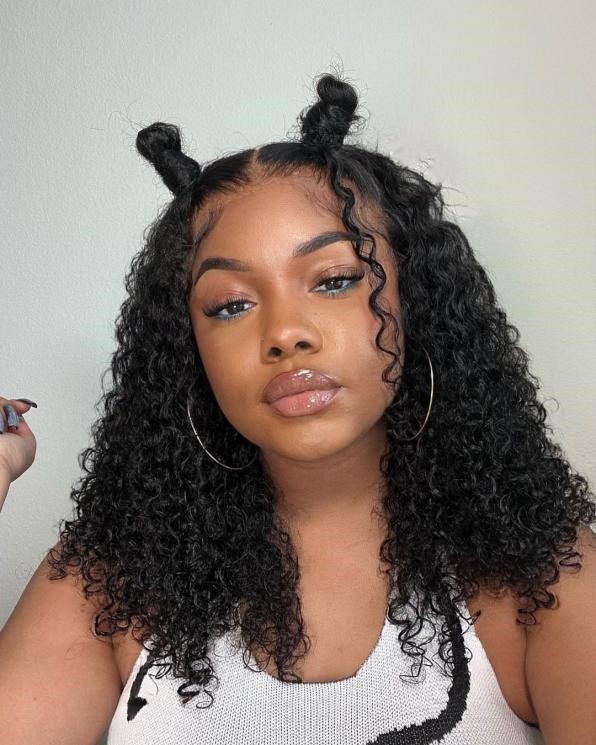 2. Heart shape of side part wig style
This said heart shape wig style looks very elegant and newfangled, and it is very easy to make. You can make this style on a Body 13x6 lace frontal wig, this Body wave wig has a large lace area, so you can make a side part on the lace area. About this wig style, you need to do a side part at the lace frontal of your wig, with more hair on one side and less on the other, then slowly shape the part of your hairline into a heart shape on the side with less hair, finish with some styling spray to set your hair in place, after these steps are done, a beautiful wig style is complete! This wig style is great for many occasions, especially if you're out with friends or eating out, it will make you feel like you're in the spotlight.
The link to this wig is: https://m.wigginshair.com/13x6-hd-lace-wigs-straight-and-body-wave-13x6-lace-front-wigs.html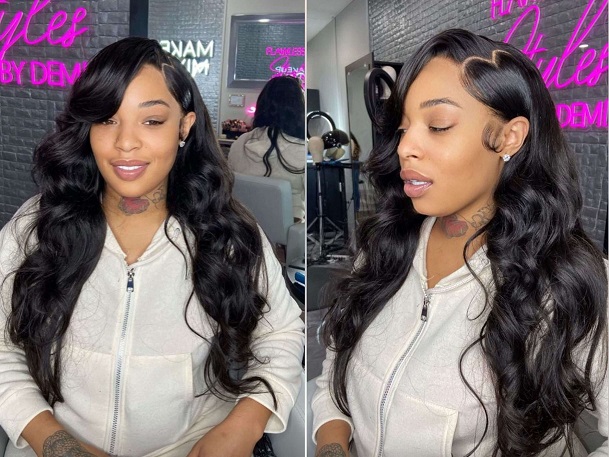 3. Braid the sides of the wig style
The wig style is going to be a little bit more difficult, but it's so pretty and cute, it makes you look like a princess. Start by styling the middle part of the lace frontal of the wig, then take two small strands of hair from the beginning of the center part and place them in front of the forehead, and then select a part of your hair and braid it into three strands as shown in the picture above. Finally, secure the braid with a hairpin and the look is complete.
The wig I recommend for this style is the Loose Deep 13x6 lace frontal wig, the Loose Deep wig is very beautiful, and the wig style can be done perfectly like the picture above. Of course, a straight wig to do this wig style is also very beautiful, you can buy the wig according to your requirement.
The link to this wig is:
https://m.wigginshair.com/26-40-long-wigs-loose-deep-wave-13-6-lace-front-wigs-for-black-women.html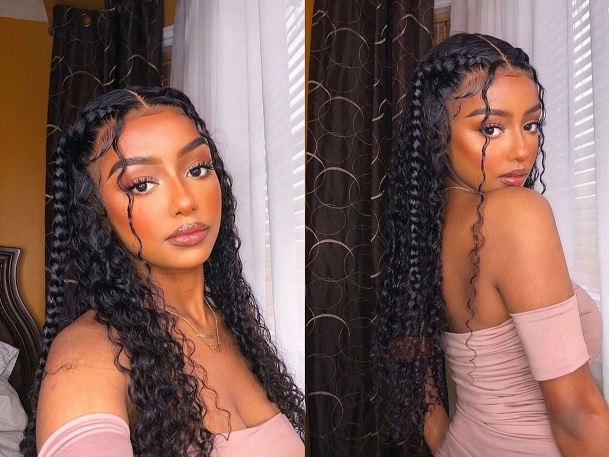 Let's buy a nice wig, get a beautiful wig style, and spend this hot summer together! WIGGINS HAIR store's promotion is also ongoing, please don't miss our promotion and buy now!