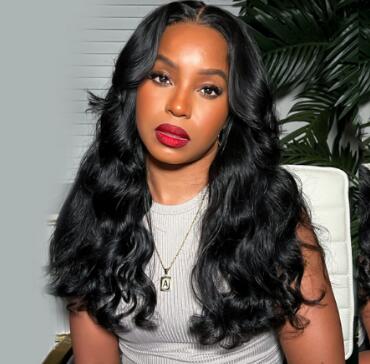 Have you ever thought about buying a wig without glue to install? Do you know what a glueless wig is? If you have ever thought about this question, then follow us to find out.
What is Glueless Wig?
As the name suggests, the wig can be installed without any glue or adhesive. The common wigs of this type includes headband wig, U/V part wig, but in fact, lace wig can also be installed in a glueless way. WIGGINS HAIR launched the Wear and Go Wigs, which is 100% glueless, and can be installed quickly and easily. Here is the link to it: https://www.wigginshair.com/wear-go-wigs.html
The Advantages Compared to Glue Wig
Usually, most people will choose to use glue to install, which can make the wig more natural and secure. But because the glue is a chemical product, long-term contact and residue will make the scalp airtight, which may cause damage to the skin and hair follicles. People with allergies may have a more serious reaction to the glue and may even need to go to the hospital. At this time, the glueless wig is a good choice for them. At the same time, the installation of conventional lace wig needs to be installed by a professional hair stylist, and it takes even longer time, which is not very friendly to wig-beginners. The glueless wig can greatly save time, wear and go, and is most suitable for busy people who don't have much time.
The Structure of Glueless Wig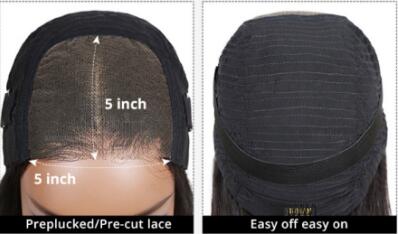 Many people will be very curious, since no adhesives such as glue are used, how to ensure that the wig can stay on the head safely? This has a lot to do with the internal structure of the wig. Usually, this kind of wig usually has combs, clips, adjustment straps or elastic bands. Wiggins Hair's wig has a combination of these accessories, and users can freely adjust according to their needs without additional customization.
Applicable People of Glueless Wig
Here we also have a general understanding of the glueless wig. Are you thinking about whether this kind of wig is suitable for you? If you can't make up your mind, you can check to see if you fall into one of the following categories. If yes, please rest assured to buy it.
1. Wig-beginner Normally lace wig is difficult for beginners to install alone. However, the glueless wig greatly reduces the difficulty of installation, is convenient for daily wear, and helps protect the wig and extend the hair life at the same time.
2. Busy Glueless wigs allow users to installed and removed at any time , such as before going to bed. Reduce the time spent on the wig, and you can quickly have a natural and beautiful look.
3. Allergic The glueless wig can help sensitive people effectively avoid skin irritation, thereby greatly reducing troubles and injuries to the body.
How to Install Glueless Wigs
1. Braid your own hair firstly: Pls make sure your hair is flat and secured.
2. Wearing the wig cap to protect your own hair: If want to make the wig more secure, you could wear a wig grip after wig cap.
3. Installing the wig with the elastic band : Please fix the elastic band on your nape first, and then adjust the wig to the proper position.
4. Cutting the extra lace: Normally for most lace wig, you will need to cut the lace by yourself/hairstylist. If you choose wear and go wig, you could jump this step, because the lace has been pre-cut.
5. Doing a hairstyle: You have done to install the wig.