It's a common scene that someone buy a so-called real human hair wig, but other people tell her it's a synthetic wig.People who encounter this scene will feel embarrassed.So knowing how to distinguish the real human hair wig and synthetic wig is significant.
It's well-known that the fundamental difference between real human hair wig and synthetic wig is the fibre. As what they are called, human hair wig is made of real hair from human beings. Based on where hair is collected, human hair wig is divided into different types, some popular types are Brazilian Hair,Peruvian Hair,Malaysian Hair,Mongolian hair.While synthetic wig is composed of synthetic pieces.These two kind of wigs are invited to cater to people's various demand. For a short-time wearing for fun or some particular occasion, the less-cost synthetic wig is no wonder a good option. And there will be some people who like to wear wigs everyday and prefer to buy real human wigs to looks like her own hair.
We summarize several core features to help you discriminate them.
1.Appearance First of all, from the appearance, it may be a little difficult to notice the difference at first sight. But after you take a little closer look, hair on synthetic wig looks much more stiff than that on real human wig. If observed carefully under light, synthetic hair will reflect light very intensively and give people a sense of plastics. Yet real human hair will show natural luster.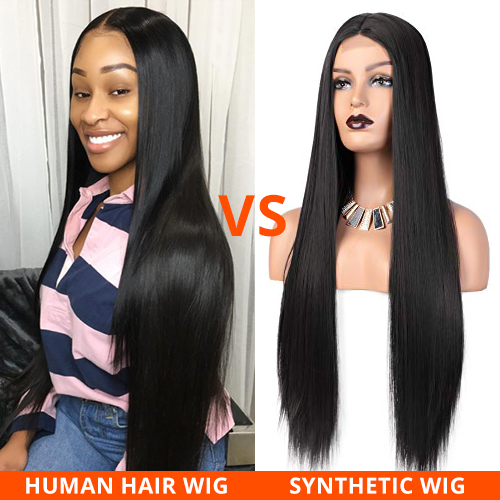 2.Hand feeling
Touching is an indispensable way, just like we differentiate many of other other objects. When touch, you could know what watching could not. The difference is more obvious when you use your hand to feel. Synthetic hair feels a little hard, very dry,unlively and rough. While real human hair feels hydrated, very smooth and bouncy and like our own healthy hair.
3.Hair quality
As for hair quality, in fact, synthetic hair itself is not hair, so there is no hair quality to speak of.Anyhow its fibre quality is unable to be on a par with hair quality. When you use comb to detangle it downwards,the comb will easily get stuck in the middle,and it will cause more shedding.Yet above problem is not for real human hair, it is smooth and easier to detangle, and also shedding is less. After a few times's wearing, synthetic hair will become very frizzy.But real human hair could last longer in good condition especially under same care.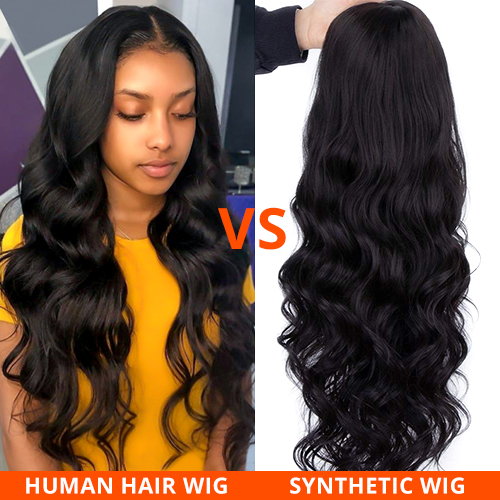 4.Chemical way
Another way is to cut off a strand of hair and burn it with fire.Their smell and the state after combustion is completely different. Real hair will become powdery after burning, pinch it with hands, there is nothing left.Its smell is normal smell of burning hair. But synthetic hair will shrink into a very hard black lump under fire. The smell is also very unpleasant like burning plastics.
Are you searching for good quality human hair products?
WIGGINS hair is a hair company specialized in 100% high end human hair products for 23 years. A variety of hair products are designed along the hair fashion trend for your selection. Highly skilled mater workers and advanced technology ensure you have the best hair journey. Our 2020 top 1 selling product: loose deep wave 3D 13*6 lace frontal wig Welcome to have a try!